King of Seas is a pirate RPG game developed by the team at 3D Clouds and published by Team 17 now available across all platforms (PC, PS4, Xbox and Switch).  Billed as a procedurally generated pirate action role playing game, we are promised a quest-based swashbuckling adventure on the high seas with the ability to partake in ship-based cannon blasting combat.  
I like RPGs and I like pirates, so do I recommend this game?
Plot
The plot here is relatively basic, particularly as far as an RPG goes. At the beginning of the game we are offered the choice of taking on the persona of either Princess Marylou or Prince Luky, heirs to the 'King of Seas' and his kingdom. We are thrown straight into action as the king sends us out on a basic trading mission to learn the ways of the seven seas.
Shockingly, or rather – as you were probably expecting under the circumstances – the king is murdered while we are away and furthermore the blame is laid on us…even though we couldn't possibly have even been there to do the deed. Despite our pleas of innocence, we are sentenced to death by the Royal Navy. They track us down and our ship is destroyed – we are left for dead in the open water. Fortunately, we are found and taken to the hidden refuge of the pirates. We have no choice but to turn our back on our previous royal life and turn to the daring and intrepid way of life as a pirate. YARRR.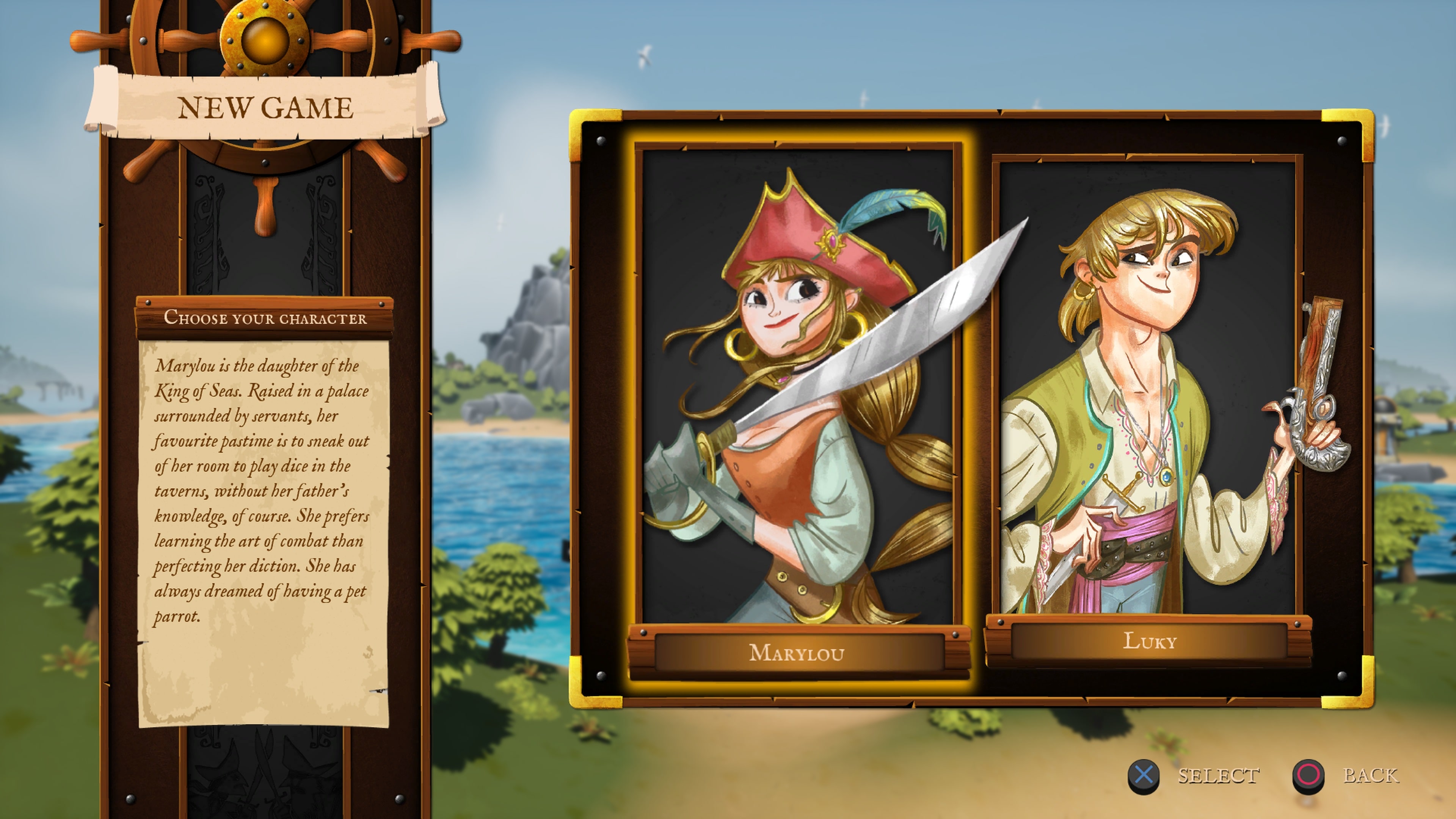 Gameplay
Gameplay is the make or break element of any game. So how does King of Seas fare?
Well, unfortunately not so great.
The game follows a mission-based structure, with your main story events and side missions easily trackable through the menu. Don't get too excited though, as there are only three types of missions on offer here:
Combat missions (go and sink that ship)
Delivery missions (take this object over there)
Escort missions (follow this ship over there and make sure nobody sinks it)
To start with there is little variation here in the side missions and to make matters worse the game quickly recycles the same named missions.  Because it is 'procedurally generated' the same mission will not always be exactly the same – you might even get asked to deliver the package to a different place this time! But that is of little benefit when the sailing itself is just lifeless and boring.
The majority of your time playing this game will be spent sailing on the ocean. Sailing very…very…VERY slowly.
To get from one side of the map to the other, even with the wind blowing your sails in the right direction, will take you at least 5 minutes. I was hoping beyond hope that a 'fast travel' option would become available at some stage in the game, but it was not to be. Anyone who has played The Legend of Zelda: Wind Waker will know what I am talking about here. The sailing in King of Seas is just not a pleasurable experience. Even with various interludes you will come across in your travels: floating treasure, red 'X's hiding on the beach, trader ships you can raid and destroy… it just isn't fun. It feels like a chore after less than an hour of gameplay and you have a long way to go after that if you want to reach the end of the game.
But wait. It gets worse.
As this is a game based around sailing from point A to point B you will be referring to your map very regularly. But guess what? There is NO MINIMAP. Any time you need to work out where you are or where you are going you need to open up the full map. Which pauses the game. Which makes your travel take EVEN LONGER than it was taking already. It is just a bad development decision and I can't think of any reason why they would not include a mini-map, or at the very least a general direction marker to help you locate your next port of call.
The combat is not much better. Initial thoughts from the first few battles was that the basic idea here is good. In this ARPG you control your ship as the 'character' in battle. You can shoot cannons to the left or right with three types of ammunition, and equip up to 4 different 'skills' at the same time. Skills can be either offensive such as blasting fire directly in front of you or RELEASING THE KRAKEN to damage opposing ships, or defensive such as lowering your pirate flag as a stealth/escape manoeuvre. The skills provide a good variety and allow for some different strategies, but the main cannon attacks which are fired perpendicular to your direction of travel are just yet another frustration in this game. Obviously you need to be moving parallel to your enemies to attack them, and they need to be doing the same. It leads to most battles becoming the same type of endless circular dance.
There are multiple different types of ship that you can buy to use with different focuses (trade, speed, attack power), and each ship can be buffed with 'equipment' that amounts to the different parts of the ship – figurehead, deck type, cannonball and more. The loot-based equipment, similar to Diablo, does provide a great motivation to keep on playing the game and for me this was one of the better executed game design elements. Glorious pirate booty abounds in King of Seas, you can find it upon sinking enemy ships, simply floating around the sea in lost crates or buried under the classic red 'X' on the beach in a hidden cove. Additionally you can receive gifts of loot upon completing any side quest in the game along with gold and experience points. This equipment appears to provide a reasonable level of choice in how you build your ship and plan your combat against the Royal Navy…or innocent passenger ships.
The RPG 'talent' progression element of the game, whilst somewhat simple in nature, does give you good control over the style of gameplay you wish to use. Prefer to be a pacifist trader? You can improve your diplomacy and trading skills to take advantage of this. Want to use voodoo skills and magic to trick the Royal Navy on the open seas? Go for it. Don't have time to muck around and want to just put all of your power into your offensive cannons? Yes please. Each basic talent has multiple stages that you can progress through up to five times with skill points for maximum boost. There are also 'big' skills that provide a more significant stat boost but can only be activated once. Nothing ground-breaking here, but the system works well and is easy to understand.
Presentation
Presentation is another let-down in the King of Seas experience. The introduction to the game is fully voiced, but after that there is no further voice-over work. The initial voice-over has its own problems as well, with what to me felt like a very forced (bad) impression of a pirate accent. The character design looks unique and promising, until you have played for more than 20 minutes and see that other than the main two characters all of the models are highly reused. Graphical assets are decent and some of the islands and structures look very interesting, but again as a procedurally generated game after a while you will start seeing repetition – and a lot of it. There is very little variation in the soundtrack with a couple of good passages that get you excited for the game, until again you have heard these little flourishes too many times. Sound effects are fine with a satisfying 'bang' as you fire your cannons, but nothing to write home about. Everything here just feels a bit dry and outdated.
I can say that one big positive for King of Seas is that there were no bugs that I came across throughout my review gameplay. The game ran smoothly, and there were no issues with any quests, visuals/sound or other gameplay performance.
Conclusion
There is a long history of both good and bad pirate games across a variety of different consoles and genre styles. From the recent Microsoft hit Sea of Thieves going all the way back to 1987 and the original 'Sid Meyer's Pirates!' on Commodore 64, you have probably played a pirate game before and honestly you've likely played a better pirate game than this one too.
The game promises an 'epic adventure' on the high seas full of treachery and treasure. What it actually gives you is a mish-mash of ideas held back from reaching their full potential with bland presentation, uninspired gameplay choices and frustrating design. King of Seas tries a lot of things that you have probably seen done before in other games, but it executes them poorly and isn't really trying to do anything new of its own.
Playing King of Seas is a bit like sailing a leaky ship with tattered sails built from the corpses of other games. You need to deal with a bumpy ride over rough seas and spend far too much time digging at that red 'X'…only to find that what you were hoping would be a treasure chest with the sparkling jewels of a great game is actually an old barrel containing an empty bottle of rum, a rotting peg leg and a stuffed parrot.
King of Seas does have the (skull and cross-) bones of a good game. If you are willing to look past the problems here this isn't the worst way to spend some time, but it is not the best by a long stretch. The procedurally-generated world, two protagonists and five difficulty levels (two locked until you have beaten the game once) do offer some amount of replayability. But I don't think anyone other than a masochist would want to play through the game more than once.
My recommendation is to make this one walk the plank, unfortunately that is what it deserves.
So, why should you play it?
You have a lot of time to spare and like watching a ship sailing slowly across the ocean.
Your Roger is Jolly and your timbers are shivered by anything pirate related.
But, why shouldn't you play it?
Repetitive gameplay gets on your nerves.
Fast-paced action/combat with a lot of action is more up your alley.
A review code on PlayStation 4 was provided for the purpose of this review. Review gameplay was completed on PS5 console.